Featured Music Production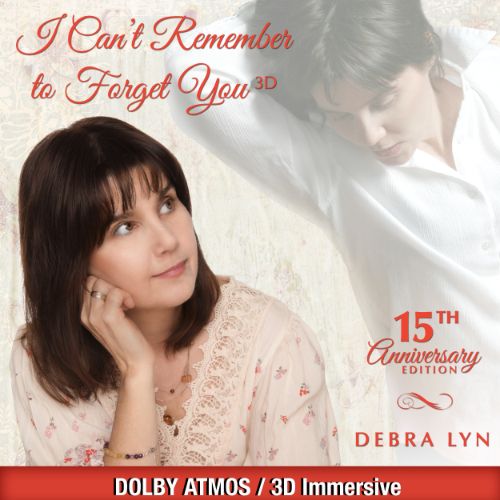 Debra Lyn: I Can't Remember To Forget You 15th Ann. Edition (Dolby Atmos/Spatial Audio)
Artist: Debra Lyn
Label: Palette Records - 2021
Songwriters: Jeff Silverman and Debra Lyn
Produced, Arranged, Engineered, Mixed & Mastered by:
Jeff Silverman @ Palette Music Studio Productions (MSP), Nashville, TN
Performed:Baritone, Acoustic, Slide & Electric Guitar Bas, Background Vocals, Drums & Percussion, Keyboards
ICR, Dolby Atmos Spatial Audio Headphone & Speaker Mix

The "I Can't Remember To Forget You" video is a joint project between Palette Productions and Sowelu Entertainment, with Shari Belafonte and Sam Behrens. This is the original video footage with an updated immersive arrangement/mix.
Why Dolby Atmos? Jeff Silverman's presentation explains Dolby Atmos and its importance as a new format available to musicians and creatives.
Note from Jeff and Debra:
When we realized that the 15-year anniversary was coming up, we thought it would be the perfect opportunity to re-release the album in an immersive format. The original "I Can't Remember To Forget You" has been re-mixed and mastered in Dolby Atmos 7.1.4. This immersive format gives the album a new life and listeners an entirely new experience.
3 new songs have also been added to the album. The stereo version of "Devil With The Blue Eyes" was included on Debra's last release "Blue Sun Rises." Two new songs included are "Heaven Would Be Hell," which was recorded in California in 2004, but never released and a brand-new song "You Can't Hold Me Close When You're Holdin' The Bottle" written by Debra and recorded in June of this year. The "Bottle" song was is truly a collaborative effort bringing together background vocals from our friends in the UK: Scotland, England, Ireland & the Czech Republic as well as musicians from Nashville and Canada. Read more about everyone involved.
We are thrilled that immersive music is beginning to become more mainstream. In June 2021, Apple Music started featuring Dolby Atmos music for their subscribers. Streaming is also currently available to Tidal HD and Amazon HD subscribers. Additionally, we are excited to be affiliated with Immersive Audio Album (IAA). IAA is one of the only online stores for purchasing immersive audio.
Read the recent review on AmericanaHighways.com by John Apice.
Palette MSP and Virtual Studio Networks (VSN), located in Mt. Juliet / Nashville, Tennessee, offer world-class music studio production services driven by the talents of their founder, Jeff Silverman.