Online & Onsite Recording,
Stereo, Dolby Atmos 7.1.4 and Spatial Audio Mixing,
Mastering & Production

Palette Music Studio Productions (MSP) utilizes some of the latest technology which enables Jeff Silverman to work with artists, musicians and companies virtually anywhere in the world. Palette Recording Studio services include virtual and onsite recording, Stereo, Dolby Atmos 7.1.4 and Spatial Audio mixing, mastering, engineering, performing, arranging, artist development, string arrangements and songwriting. This virtual connect is accomplished through Virtual Studio Networks (VSN), which allows Silverman to offer world-class studio production services to the
Nashville / Mt. Juliet, Tennessee area and beyond.
Jeff Silverman/Palette Studio is a Certified Apple Digital Masters Mastering House, Approved by Apple, Inc.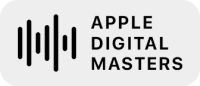 Jeff Silverman has recently upgraded Palette MSP to the latest Dolby Atmos 7.1.4 and Spatial Audio formats. This Atmos object based mixing has now become the new sought-after immersive audio format for places such as Apple Music, Tidal & Amazon Music. Click video to learn more. Jeff's Spatial Audio 2 track mixes can be heard with or without headphones although headphones are always more immersive! 🙂
Read More
Apple TV+, HBO Max, VUDU and even Mercedes Benz have all begun to embrace Dolby Atmos! These mixes offer a "one size fits all audio experience, which enables 1 audio file / stream to be converted to any hardware source automatically. So, it will detect whether the listener is using stereo speakers, headphones the 7.1.4 surround (7 speakers, 1 sub and 4 ceiling speakers) and higher. With Dolby Atmos 3D immersive mixes, you are now able to listen to a mix and feel like you're sitting right on stage with the band, or like you're at a live concert, giving an entirely new audio experience!
The trailer above has been mixed in Dolby Atmos and what you're hearing is a 3D Binaural re-render from the original Dolby Atmos ADM master file. For more information: CLICK HERE
RECENT COVID-19 updates from Jeff Silverman:
Easy to connect remote mixing and mastering services now available, streaming from anywhere in the world with a good broadband connect! ""NEW"" NOW OFFERING Virtual Remote Recording so either you or your "talent" can now record directly into Jeff Silverman's computer while everyone streams and participates from separate locations!
Read More
FREE remote set up available. For more information, CLICK HERE. Be safe and well!
2023 DEBRA LYN – WING AND A PRAYER (Dolby Atmos/Spatial Audio) – Produced, Engineered, Mixed & Mastered by Jeff Silverman. Homelessness is an issue that is everywhere. This first single from Debra Lyn's upcoming album, explores the trials and tribulations of being homeless with a glimmer of hope, on a Wing And A Prayer. Written by Debra Lyn and Jeff Silverman. Available on Debra Lyn's website, IAA (Immersive Audio Album) and as of May 25/2023. listen and/or purchase on your preferred music service.
Palette Studio
Palette (MSP) music-studio-productions and Virtual Studio Networks (VSN) offers online & onsite world-class studio production services driven by the talents of its founder, Jeff Silverman. Jeff's nearly 40 years'
Read More
of experience in the music industry has included working on Emmy and Grammy-nominated projects such as Mists of Avalon with Palette Recording artist Aeone. He has also produced, mixed, mastered, co-written, edited and performed on a number of gold, platinum and award-winning projects for artists such as Rick Springfield & Nick Gilder (refer to Discography for additional credits.) Read more . . .
Virtual Studio Networks (VSN)
Let us bring "Music City" Nashville to you through Palette's Virtual Studio Networks (VSN)! VSN allows Jeff Silverman to not only interact and work with artists and musicians anywhere in the
Read More
Digital Mixing & Mastering
Depending upon your needs, Palette (MSP) music-studio-productions also offers digital mixing and mastering services utilizing the latest version of Avid's Pro Tools Ultimate with
Read More
HDX cards. This can entail anything from a simple mix to enhancing tracks and elements to suggesting arrangement ideas, rearranging, resounding or even tuning vocals or instruments with Melodyne. Read more . . .
Live Strings
Palette (MSP) music-studio-productions is pleased to offer "Live Strings" as an additional service. Live Strings allows us to create unique productions and/or arrangements utilizing some of Nashville's finest string players.
Read More
Please visit our Live Strings page to hear song examples and read more about the amazing players. Read more . . .
Production & Artist Development
Depending on your needs, Jeff Silverman can assist you with anything from songwriting, to getting your best performances in the studio, helping you find or enhance your creative vision, to
Read More
producing, arranging, mixing and mastering your music so you and your project will be "radio" ready. He can also put you in touch with some of Nashville's finest studio musicians for any genre!
Music Editing for Film and TV
Jeff Silverman brings a new and innovative music editorial service to his clients, encompassing a full spectrum of creative needs from spotting notes, re-conforms, building temp tracks, assembling
Read More
and utilizing the all important music database/library to supplying the final cue sheets. Attention to detail is key to Silverman, who is known for his cutting edge approach to editorial along with a unique ability for making music work to picture. Please visit the Film & TV section of this site to see and hear examples of Jeff's work as a music editor. Read more . . .
Palette MSP and Virtual Studio Networks (VSN), located in Mt. Juliet / Nashville, Tennessee, offer world-class music studio production services driven by the talents of their founder, Jeff Silverman.