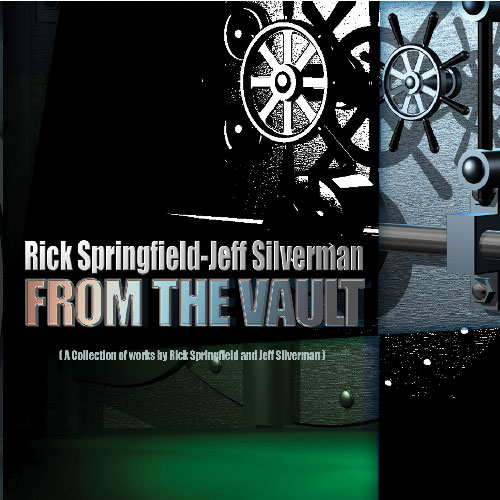 Rick Springfield and Jeff Silverman
CD:
From The Vault (A Collection of works by Rick Springfield and Jeff Silverman)
Song:
Dancin' On The Edge Of The World
Frontiers Records - 2010
Written by:
Jeff Silverman and Rick Springfield
Engineered, Co-produced, Mixed and Mastered by:
Jeff Silverman, Palette Music Studio Productions (MSP), Los Angeles, CA
Performed:
Background vocals, acoustic, electric & synth guitars, mandolin, bass, keyboards, drum programming
BEFORE:
AFTER:
Comments:
You won't hear a big difference between these two different versions and that was completely intentional. Both Rick and I had a choice to open up the 2 inch multitracks, transfer to my Avid Pro Tools HD 3 Accel System and bring the mixes & instruments more up to date sonically, but… we both agreed to just leave these original mixes from the 80s / 90s "as is" and opted to master them instead. I truly feel that was the right move and in my humble opinion, made this body of work even more of a gem!
My goal was to preserve the original sound, but blend a culmination of 13 songs that were not only recorded over a period of 15 years, but were never intended to be a body of work (even though they were all specifically picked out of "The Vault" for that purpose.)
So, I applied my usual mastering techniques explained in the DIGITAL MIXING & MASTERING section of this website and I feel that this CD now competes with the best of the best on a sonic level. I can't change the DMX and Lynn drum machine sounds, the old Yamaha DX-7, Roland and other synths and outboard equipment that helped make this sound, but I can enhance them to their max!
The performance level throughout this project was stellar and inspired. I can still hear the energy that one gets when writing and recording a song for the first time. I never use the word "demo" when I record a song, no matter what stage we're in of the creative process. One never knows what could happen 20 – 30 years later. Your "master" JUST MIGHT end up on a CD called "FROM THE VAULT! HA! 🙂
To hear more samples "From The Vault" click here!
Palette MSP and Virtual Studio Networks (VSN), located in Mt. Juliet / Nashville, Tennessee, offer world-class music studio production services driven by the talents of their founder, Jeff Silverman.