Featured Music Productions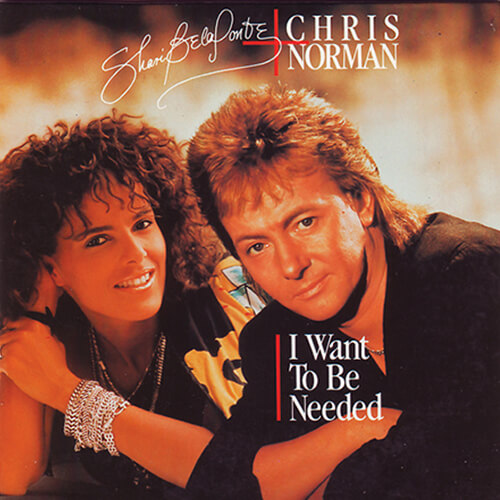 Shari Belafonte and Chris Norman - I Want To Be Needed
Skills: Featured Productions

Artist: Shari Belafonte with Chris Norman
CD: Eyes of Night
Hansa Musik Produktion / Intersong / Metronome Musik - 1987

Artist: Chris Norman with Shari Belafonte
CD: Hits From the Heart
Hansa Musik Produktion / Intersong - 1988

Artist: Chris Norman with Shari Belafonte
CD: Heartbreaking Hits
Edel Records – 2004
Song: I Want To Be Needed
Songwriters: Jeff Silverman and John Philip Shenale
Produced by: Jeff Silverman, John O'Flynn aka Bernd Meinunger, Joan Haliver aka Hanna Haller
Arranged, Co-Engineered, Performed: Guitars, Bass, Keyboards, Drum Programming and Background Vocals
Comments:
Shari Belafonte invited me to be part of this project. John Carter introduced us several years before this CD. We not only developed a very productive music relationship, but a long time friendship.
Altogether, I co-produced the entire "Eyes of Night" album in Germany and LA, with two very well known German producers, John O'Flynn and Joan Haliver. I also co-wrote 3 of the 10 tracks on this CD. The single, "I Want To Be Needed" was not only the first single for Shari, but became a track on two of Chris Norman's albums.
The title song of Shari's album "Eyes of Night" was co-written by Judithe Randall, her daughter, Robin and myself.
About Shari Belafonte:
Shari Belafonte is an American actress, model, writer and singer. She is the daughter of singer Harry Belafonte and is best known for her role as Juliet Gilette on the 1980s television series "Hotel." Shari's career has been multifaceted and she has producing credits for theater, public and network television and feature films.
She has been affiliated with numerous children's, animal and environmental causes. She was also named by the "Wall Street Journal" as one of the top ten celebrity endorsers and has been the spokesperson for many corporations.
About Chris Norman:
Chris Norman is an English Soft Rock Singer known for being the lead vocalist of the band "Smokie." Smokie's debut album, "Pass It Around" was released in 1975. The album included the hits "If You Think You Know How To Love Me" and "Living Next Door To Alice."
Chris also recorded the duet "Stumblin' In" in 1978 with Suzi Quatro (also known as Leather Tuskadero from "Happy Days" fame) which was one of his first solo successes outside of Smokie and went to #4 on the U.S. charts. Smokie continued world touring until the early 1980s when Chris and "Smokie" drummer, Pete Spencer decided to concentrate on writing songs for artists such as Kevin Keegan, Donovan and Agnetha Fältskog from ABBA.
In 1985 Smokie appeared at a charity show in Bradford, England. The show was so successful that the band decided to tour Germany and Australia, but later on that year, Chris decided to once again concentrate on his solo career. His 1986 song "Midnight Lady" was a hit throughout Europe and held the number one spot in Germany for six weeks. Chris was honored as CMT Europe's "International Video Star of the Year" in 1994. He continues to record and perform.
Palette MSP and Virtual Studio Networks (VSN), located in Mt. Juliet / Nashville, Tennessee, offer world-class music studio production services driven by the talents of their founder, Jeff Silverman.